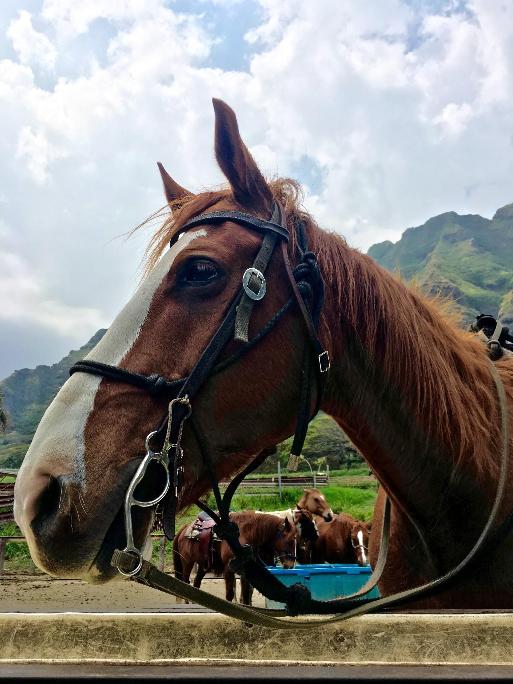 Kualoa Ranch is a working cattle operation and nature preserve on the Windward (East) side of Oahu. The ranch is about 4000 acres and has something to interest most. Kualoa has sites of interest for movie enthusiasts, history buffs, animal lovers, and anyone else who enjoys a beautiful setting here on Oahu.
Kualoa Ranch is a popular filming location, especially in the beautiful Ka'a'awa Valley. You might recognize it from shows or movies such as Jurassic Park and Jurassic World, LOST, 50 First Dates, Godzilla, Hawaii Five-0, Mighty Joe Young, Windtalkers, and many more.
There are many things of historical interest around the ranch, from the old sugar mill near the entrance, to World War II bunkers and even places of native Hawaiian significance. There is also a small museum near the gift shop which has some great old pictures and artifacts from the ranch, which was founded in 1850.
If you can't wait to see the horses, like me, there are plenty willing to come get some attention as they rest in the corral. There is also a petting zoo with a variety of animals to visit, including Tank the tortoise, some goats, a pig, donkey and most recently a cow and calf pair. You may even see a barn cat or two and some free roaming hens.
The view of the Ko'Olau mountains here is absolutely amazing, and there are also some nice views out over the beach and ocean. Nearby Kualoa Beach Park has a great view of Chinaman's Hat and is a good place to spend some relaxing time on the beach.
If you're hungry, there's a cafe in the main building where you can sample some of the Kualoa Ranch grass fed beef with their burgers.
Kualoa Ranch and Beach Park is a wonderful place to spend some time on Oahu. It is one of the stops on our Oahu Circle Island Tour.